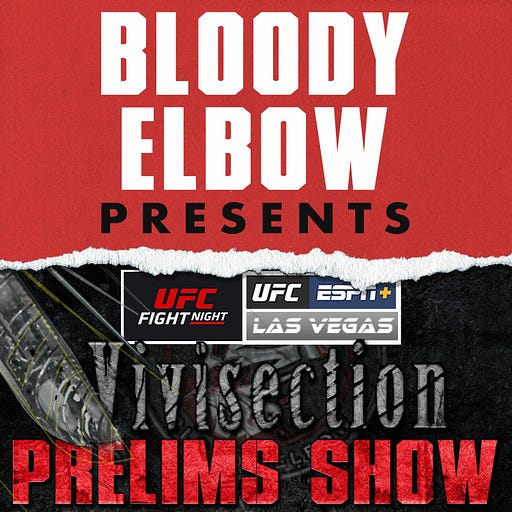 Apr 14 • 1HR 19M
UFC Vegas 71: Yan vs Dvalishvili Prelims Picks, Odds, & Analysis | The MMA Vivisection
Zane Simon & Connor Ruebusch are here today, March 9th, 2023, with the MMA Vivisection PRELIMS SHOW; breaking down a set of 8 bouts on the massive action-packed UFC Vegas 71 Fight Night card. 'Petr Ya
Appears in this episode
The Official Podcast Network of Bloody Elbow – for all of your MMA & UFC News 24/7 - 365. We bring you shows day in and day out with a wide variety of topics and perspectives on Combat Sports. This is our main RSS Feed which carries every one of our shows to your favorite podcast platforms.
Zane Simon & Connor Ruebusch are here today, March 9th, 2023, with the MMA Vivisection PRELIMS SHOW; breaking down a set of 8 bouts on the massive action-packed UFC Vegas 71 Fight Night card. 'Petr Yan vs. Merab Dvalishvili' is a 14-bout event...
"It's always nice to see the UFC follow strength with strength. The world's largest MMA promotion is coming off a huge PPV last week, with UFC 285, and now they're right back at it with a top class 'Fight Night' event. In the headliner, former champion Petr Yan takes on top contender Merab Dvalishvili. They're accompanied by a top ranked heavyweight bout between Alexander Volkov and Alexander Romanov, alongside what was meant to be the headliner from two weeks ago—a light heavyweight tilt between Nikita Krylov and Ryan Spann. Should be a blast.
For listeners looking to support our podcasting work as Bloody Elbow leaves the VOX network of sites, we now officially have a 'Vivisection/6th Round/MMA Depressed-us' Patreon. Both event week shows will continue to be posted, for free on BE, SoundCloud, YouTube and other podcasting apps going forward. However, the Patreon will give fans exclusive access to our non-event week show, 'The MMA Depressed-us Podcast', from here on out." - Zane Simon 3.09.23
Become a devoted degenerate Patron here: https://patreon.com/mmavivisection?utm_medium=clipboard_copy&utm_source=copyLink&utm_campaign=creatorshare_fan&utm_content=join_link
For those fans who wish to dive deeper into the 6 bouts on the MAIN CARD, check out that version of the MMA Vivi every Thursday, right here on our channel.
ESPN+ PRELIMS | 3/12PM ETPT
8. 265lbs: Łukasz Brzeski (8-2-1) vs. Karl Williams (7-1) — Picks, Both: Brzeski | At 2:39, Odds 10:06
7. 135lbs: Raphael Assunção (27-9) vs. Davey Grant (12-6) — Picks, Both: Assunção | At 12:28, Odds 22:37
6. 185lbs: Sedriques Dumas (7-0) vs. Josh Fremd (9-4) — Picks, Both: Dumas | At 24:08, Odds 32:22
5. 135lbs: Mario Bautista (11-2) vs. Guido Cannetti (10-6) — Picks, Both: Bautista | At 33:06, Odds 39:31
4. 125lbs: JJ Aldrich (11-5) vs. Ariane Lipski (14-8) — Picks, Both: Aldrich | At 41:35, Odds 49:14
3. 135lbs: Tony Gravely (23-8) vs. Victor Henry (22-6) — Picks, Both: Henry | At 50:19, Odds 56:25
2. 125lbs: Tyson Nam (21-12-1) vs. Bruno Silva (12-5-2) — Picks, Zane: Silva, Connor: Nam | At 58:02, Odds 1:09:17
1. 170lbs: Carlston Harris (17-5) vs. Abubakar Nurmagomedov (17-3-1) — Picks, Both: Harris | At 1:10:06, Odds 1:16:01
While you are listening to the shows be sure to visit our MMA Vivi Facebook Page to "Like", Follow, Share - at: https://www.facebook.com/TheMMAVivi. If you enjoy our variety of shows, please give us a "heart", share, & subscribe here on substack, or give us a "like", share & subscribe on your BE Presents Podcast platform of choice:
facebook, YouTube, Apple Podcasts, Amazon Music, Audible, iHeartRadio, Spotify, Stitcher, TuneIn, OverCast, PocketCasts, Castro, Castbox, Player FM, imdb, ThisMMALife, Podcast Addict, Podvine, Podchaser, Podbay, Podtail, Owltail, Listennotes, Podcast Republic, MuckRack, Chartable, Podtoppen.se & Patreon.
Follow your favorite Bloody Elbow Presents hosts on your preferred apps, such as: Downcast, PodCruncher, iCatcher!, Castaway 2, Podcastapp, Podbean, BeyondPod (Android), & more in your App Store! Coming soon to MegaPhone, Simplecast, Pandora & Sirius XM!
For previous episodes, check out our playlists on any of our BE Presents channels.