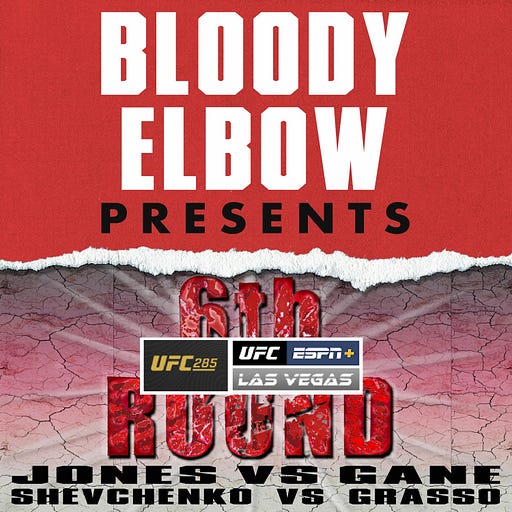 Mar 5 • 1HR 15M
UFC 285: Jones vs Gane & Shevchenko vs Grasso | 6th Round Post-Fight Show
Our fight experts bring you hot takes, possible next fights & reactions to the overall recently concluded UFC event. | Talent: Zane Simon & Eddie Mercado, occasional stand-in hosts include Dayne Fox, Dan Tom, industry fight analysts & for paid subscribers bonus content from our own founder Kid Nate 'Paywall' Wilcox. | Airs: Every Event Week, Within Hours of the Event Conclusion
Bloody Elbow fight expert, Zane Simon & his co-hort Dayne Fox recorded for you on Saturday, March 4th, 2023, with a breakdown of the UFC 285: 'Jon Jones vs. Ciryl Gane' massive, action-packed 14-bout card, from the T-Mobile Arena in Las Vegas, Nevada.
The guys have hot takes, possible next fights, as well as reactions to the overall event in the player above, or they can be caught on our Bloody Elbow Presents YouTube Channel or any platform in our BE Presents Podcast Network.
For all the results, reactions and a plethora of details about the main card, and plenty of tidbits about all the prelims, be sure to hit play on the show to hear what our fight experts have to say!
Be sure to follow Zane - @TheZaneSimon & Eddie - @TheEddieMercado; and follow @BloodyElbow on twitter as well, for all the latest in MMA happenings. Plus now, you can show your love, AND support the efforts of our Podcast team by becoming a devoted degenerate patron at our 6th Round/MMA Vivi Patreon!
Bloody Elbow Podcasts is a 100% listener-paid publication. To receive new posts and support our team, consider becoming a paid subscriber.
Here's a look at what transpired...
This 14-bout card saw two exciting first round finishes, three thrilling KO/TKO's, four sweet subs, and six hard-fought decisions - one was a majority decision. Post-Fight BONUS Awards included: POTN: Bo Nickal, Alexa Grasso & Jon Jones FOTN: Geoff Neal vs. Shavkat Rakhmonov
UFC 285: 'Jones vs. Gane' fight card, updated records & full results from the event —
MAIN CARD | SAT. MAR. 4
14. UFC Vacant HW Championship: Jon Jones E (26-1) vs. Ciryl Gane S/J (11-1) — via
13. UFC Flyweight Championship: Alexa Grasso (16-3) DEF. Valentina Shevchenko (23-4) — via Sub - Rear Naked Choke at 4:34 of Rd 4, Total 19:34
12. Shavkat Rakhmonov (17-0) DEF. Geoff Neal (15-5) — via Sub - Standing Rear Naked Choke at 4:17 of Rd 3, Total 14:17
11. Mateusz Gamrot (22-2) DEF. Jalin Turner (13-6) – via Dec - Split (29X28, 28X29, 30X27)
10. Bo Nickal (4-0) DEF. Jamie Pickett (13-9) — via Sub - Arm Triangle Choke at 2:54 of Rd 1
FEATURED PRELIMS
9. Cody Garbrandt (13-5) DEF. Trevin Jones (13-10) — via Dec - Unanimous (29X28, 29X28, 29X28)
8. Dricus Du Plessis (19-2) DEF. Derek Brunson (23-9) — via KO/TKO - Corner Stoppage at 4:59 of Rd 2, Total 9:59
7. Amanda Ribas (11-3) DEF. Viviane Araujo (11-5) — via Dec - Unanimous ( 27x29, 26x30, 27x30)
6. Julian Marquez (9-4) DEF. Marc-André Barriault (15-6) — via KO/TKO - Punches (Standing TKO) at 4:12 of Rd 2, Total 9:12
EARLY PRELIMS
5. Ian Machado Garry (11-0) DEF. Kenan Song (19-7) — via KO/TKO - Punches at 4:22 of Rd 3, Total 14:22
4. Cameron Saaiman (8-0) DEF. Mana Martinez (10-4) — via Dec - Majority (26X29, 28X28, 27X28)
3. Tabatha Ricci (8-0) DEF. Jessica Penne (14-7) — via Sub - Armbar at 2:14 of Rd 2, Total 7:14
2. Farid Basharat (10-0) DEF. Da'Mon Blackshear (12-5-1) — via Dec - Unanimous (28x29, 28x29, 28x29)
1. Loik Radzhabov (17-4-1) DEF. Esteban Ribovics (11-1) — via Dec - Unanimous (28x29, 28x29, 28x29)
If you enjoy our variety of shows, please give us a "like", share & subscribe here on SC, or on your BE Presents Podcast platform of choice:
YouTube, facebook, Apple Podcasts, Amazon Music, Audible, iHeartRadio, Spotify, Stitcher, TuneIn, OverCast, PocketCasts, Castro, Castbox, Player FM, imdb, ThisMMALife, Podcast Addict, Podvine, Podchaser, Podbay, Podtail, Owltail, Listennotes, Podcast Republic, MuckRack, Chartable, Podtoppen.se & Patreon.
Follow your favorite Bloody Elbow Presents hosts on your preferred apps, such as:
Downcast, PodCruncher, iCatcher!, Castaway 2, Podcastapp, Podbean, BeyondPod (Android), & more in your App Store! Coming soon to Simplecast, Pandora & Sirius XM!
For previous episodes, check out our playlists on any of our BE Presents channels.