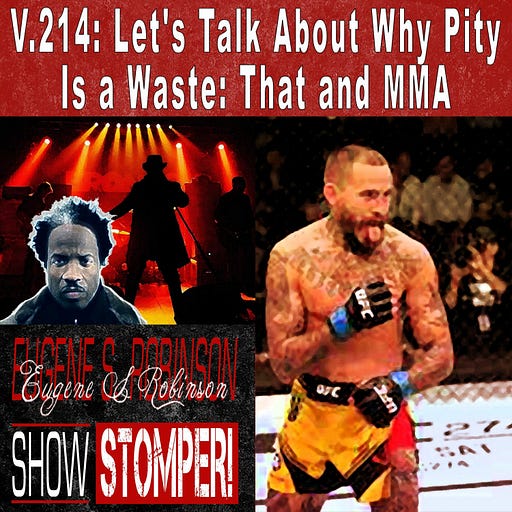 May 4, 2022 • 1HR 4M
GUEST POD: Let's Talk About Why Pity Is a Waste: That & MMA On The Eugene S. Robinson Show Stomper!
The Official Podcast Network of Bloody Elbow – for all of your MMA & UFC News 24/7 - 365. We bring you shows day in and day out with a wide variety of topics and perspectives on Combat Sports. This is our main RSS Feed which carries every one of our shows to your favorite podcast platforms.
This guest video podcast is a compelling MMA Podcast that touches on all aspects of the sport inside & outside the octagon with a smattering of social commentary & ramblings, & some colorful anecdotes from your host's life... Your talented guest pod host is none other than the astounding, Eugene S. Robinson. He is the Author of the 'Eugene S. Robinson Substack', the fight book: "Fight: Everything You Wanted to Know About Ass-Kicking but Were Afraid You'd Get Your Ass Kicked for Asking", host of the 'Eugene S. Robinson Show Stomper!' Podcast of course, Co-Host of the 'Care/Don't Care Podcast', Co-Host of the 'If The Shoes Fit' Podcast, frequent guest of the "Crooklyn's Corner' Podcast, Host of the 'JJB! - Jiu Jitsu Breakdown!' show, former host of the 'Knuckle Up Podcast" (which can be found in this channel's playlists). He is also a practicing Jiu Jitsu Artist and the Lead singer and founding member of the alt metal band: OXBOW, which has achieved a substantial international cult following. Some of his music is in the intro and outro of the pod each week. "Sorry not sorry. Each and every other way. And Jonny Boney Joney? And Gaethje and Olivera? Suuuureeeee....why not?" - Eugene S. Robinson, 5/1/2022 ____________ Subscribe to eugenesrobinson.substack.com, follow Eugene on twitter @EugeneSRobinson, on Insta @eugene.s.robinson, PAY here at his Patreon IF you wish: https://www.patreon.com/thestomper Give the LIVE video broadcast of 'The Show Stomper! Podcast' a "thumbs up", subscribe on The Stomper's YT page every Sunday at: https://youtu.be/SBjjL1lTRaY OR: Give the premium video production of the show a "like" and share on The Stomper's Facebook every Monday at: https://www.facebook.com/stompville/ OR: Listen to premium audio on his... * SoundCloud: https://soundcloud.com/user-914736745 * Spotify: https://open.spotify.com/show/353qdjKsABTte8zQVZCwyd?si=OJjhBfBfTYyYiSZSE5RV0g, * iTunes & Apple TV: https://itunes.apple.com/us/podcast/eugene-s-robinson-show-stomper/id1340723629?mt=2, * iHeartRadio: https://www.iheart.com/podcast/269-eugene-s-robinson-show-sto-30674882/, * OverCast: https://overcast.fm/itunes1340723629/eugene-s-robinson-show-stomper, * PlayerFM: https://player.fm/series/eugene-s-robinson-show-stomper, TuneIn: https://tunein.com/podcasts/Sports--Recreation-Podcasts/Eugene-S-Robinson-Show-Stomper-p1190934/, * Stitcher: https://www.stitcher.com/podcast/the-eugene-s-robinson-show-stomper?refid=stpr, * blubrry: https://www.blubrry.com/eugene_s_robinson_show_stomper/ * or at Amazon Music: https://music.amazon.com/podcasts/31b526af-ea19-4022-ba38-202b583cf8d3/Eugene-S-Robinson-Show-Stomper ________________________________________ Show distribution, graphics & logos via – June M. Williams: https://www.sbnation.com/users/June%2520M.%2520Williams ______________________________________ Here's a look at the UFC Vegas 53: 'FONT VS VERA' fight card with full results & updated fight records — MAIN CARD | SAT. APR 30 11. 135lbs: Marlon Vera (21-7) DEF. Rob Font (19-6) — via unanimous decision (48-47, 49-46, 49-46) 10. 265lbs: Andrei Arlovski (34-20) DEF. Jake Collier (13-7) — via split decision (29-28, 29-28, 27-30) 9. 145lbs: Joanderson Brito (13-3) DEF. Andre Fili (21-9) — via TKO (strikes) at 0:41 of round one 8. 155lbs: Grant Dawson (18-1) DEF. Jared Gordon (18-5) — via submission (rear naked choke) at 4:11 of round three 7. 145lbs: Darren Elkins (27-10) DEF. Tristan Connelly (14-8) — via unanimous decision (30-27, 30-27, 30-27) 6. 185lbs: Krzysztof Jotko (24-5) DEF. Gerald Meerschaert (34-15) — via unanimous decision (30-27, 30-27, 30-27)